Dash and Dot Robots Available for Check-Out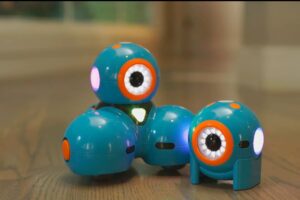 Check out a Dash and Dot Robot Kit from the library.
Dash and Dot help teach kids to code in a fun, creative way. Any skill level will have success coding with these charming robots. Recommended for ages 6+.
Each Kit includes:
Dash and Dot need to have a device with Bluetooth capabilities in order to operate.
The necessary apps to use the robots can be downloaded online free of charge.
Dash and Dot Robots can visit your house for 21-days.
Borrowers need to be 18 years old.
Click here to view the full borrowing agreement.
"Throughout our entire production process, we aim to spark creativity with kids of all ages to inspire them to learn critical coding skills while having fun. Our robots put the power of play into their hands so they can dream up new adventures while learning to code at every level." -Wonder Workshop, creators of Dash and Dot.

Dash and Dot Robot kits are sponsored by Friends of Huntingdon Valley Library.