Summer Learning Program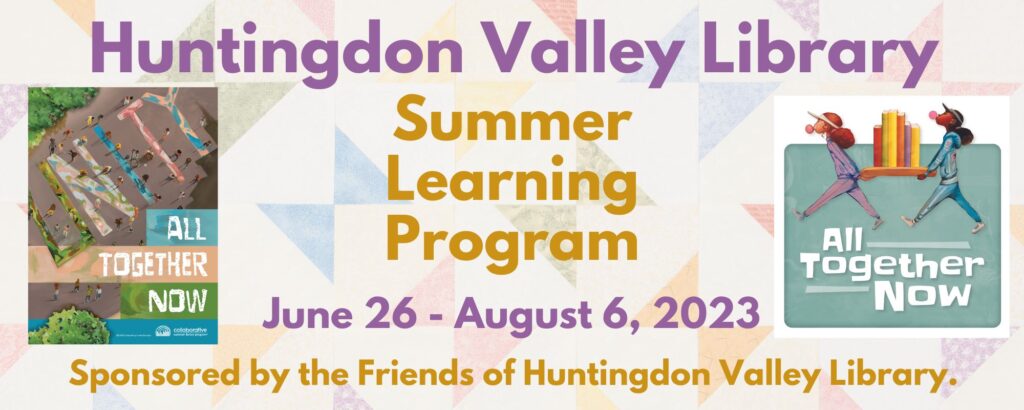 Huntingdon Valley Library's Summer Learning Program began on Monday, June 26 and run for six weeks, through Sunday, August 6. This summer's theme, All Together Now, celebrates community and unity.
Program Details
Who can participate?
Everyone! We have challenges for four different age groups.
How do I sign up and participate?
Summer Learning Registration Kick-Off Table: Pick up a Summer Learning Program folder* at our registration kick-off table on Monday, June 26 between 4 & 6 pm or on Wednesday, June 28 between 4:30 & 6:30 pm. Youth Services staff will be available to help you register for the program in Beanstack, sign up for events, recommend books, and answer any questions. You can get a temporary tattoo and choose a goodie from our prize box just for visiting our registration table! Optional handouts will also be available, such as age-specific reading lists and a paper tracking form for those who need or prefer it.
Visit the library: You can also pick up a Summer Learning Program folder* anytime between June 26 and August 6 during the library's open hours.
Online: Sign up directly using the Beanstack app or website.
First Week Registration Raffle: Sign up for one of our reading challenges in Beanstack during the first week (June 26-July 2) and you will be automatically entered into a raffle for 2 free passes to Dorney Park & Wildwater Kingdom!
*Summer Learning Program folders will be available for youth from birth to those entering grade 12 in the fall. Although there is a Summer Learning challenge for the adults, there is no special Summer Learning folder available for this age group.
What is Beanstack?
Beanstack is the online software that we use for our reading programs. All reading logs, activity logs, and raffle tickets (for prizes) will be entered using Beanstack. You can register online using our Beanstack site or the Beanstack app (search for Huntingdon Valley Library). Challenge registration will be available in Beanstack beginning on June 26. Beanstack will allow you to:
To find out how to do things in the app, watch Beanstack's general videos on how to view/participate in challenges, use the reading timer, log past reading, log activities, and log a book as completed.
If you already have a Beanstack account, just update the information for all of your readers (to make sure they will be in the correct challenge for their age group) and register them for our Summer Learning Program reading challenge. Challenges will be available starting on June 26 and will appear on the Challenges tab (on a web browser) or the Discover tab (in the app).
Can I participate if I don't have internet access?
YES! For those who need or would prefer a paper log, those will be available, but all of your data will need to be added to Beanstack in order to enter prize raffles. People who have internet access can transfer the information to Beanstack from the paper logs themselves (feel free to use the public computers at the library!), but those without internet or who prefer help can bring any paper logs in to the library. Staff will be happy to add your information to Beanstack for you and assist you with submitting tickets for prizes. Bring paper logs in to the library periodically during the summer to get new reading logs and/or to enter smaller raffles. All paper logs must be submitted to the library in person by close of business on Saturday, August 5 (earlier is better for staff!).
What counts toward my reading time?
Fiction, non-fiction, audiobooks, ebooks, graphic novels, magazines, school reading…EVERYTHING! If you're reading, it counts! For emerging readers not yet reading on their own, log the time that others are reading to them.
Are there prizes?
Yes! Depending on the age group, we will have biweekly and/or grand prize raffles that you can enter to win. Prizes will include grand prize baskets, tickets to area attractions, small gift cards, and book sets. All prizes must be picked up at the library (we are unable to mail prizes).
Will there still be a community reading goal?
We are trying to beat last year's total time. Last summer, our library community read 468,222 minutes (averaging over 20 hours per person for the challenge!). Contribute to our community goal to help us read 500,000 minutes or more! Can we beat our time from last year and by how much?
Events
We have a full slate of events planned. Click on the links for more information and to register.
Wednesday Night Family Programs:
Thursday Night Teen Events:
Other Events
Events with an asterisk* require registration. Events without links above have multiple sessions. Please visit our online calendar for more information and to sign up for registration-required events.
Thanks to our sponsors!
The Summer Learning Program is sponsored by the Friends of Huntingdon Valley Library, with additional support from:
(If your organization would like to donate to our Summer Learning Program, please call Head of Youth Services Vanessa Nelson at 215-947-5138 or send email to hvlys@mclinc.org.)