Youth Services – Teens
Events for Teens:
Summer Learning Program 2021
This year's Summer Learning Program will run for 6 weeks from June 21-August 1. We have a full slate of programming for teens planned, complete with DIY Teens Take Home Kits, a visit from Graphic Novelist Jarrett J. Krosoczka, an art workshop, Pet Week, and some D&D.
This year's theme, Tails and Tales, celebrates animals. Watch our teaser video below for an overview of this summer's program. Then, click here to learn more about how the program works. You can read more about the summer events for teens below the video.

The Summer Learning Program is sponsored by the Friends of Huntingdon Valley Library, with additional support from Adventure Aquarium, Dairy Queen of Bethayres, Lee's Hoagie House of Southampton, Philadelphia Eagles, and Valley Orthodontics.
Youth Author Tour – Jarrett J. Krosoczka – Wednesday, June 30 at 6:30 pm
In this live virtual Zoom event, New York Times-bestselling author Jarrett J. Krosoczka will show students how he went from being a drawing-loving kid to a widely-published adult and how he brings his ideas from sketchbook to printed book. This event is targeted to middle school & high school students. Jarrett will be discussing his teen graphic novel Hey, Kiddo: How I Lost My Mother, Found My Father, and Dealt with Family Addiction, which was a National Book Award Finalist. Event is part of the Montgomery County Libraries "One Summer, One Author" Youth Author Events.
Recommended for students entering grades 6-12 in the fall.
Make sure to select Huntingdon Valley Library as your home library when registering. Ten Huntingdon Valley Library patrons will be randomly chosen to win a free copy of Hey, Kiddo!
Other Summer Events for Teens
Most events, unless otherwise noted, are virtual and require registration. Click on the event links for more details and to register.
Learn the basics of this popular role playing game in this virtual stand-alone quest session. Registrants will also receive a bag of starter supplies including dice, a dice bag, and character sheets. Bag pick-ups will be June 26-July 1.
Workshop: Thursday, July 15 at 6:30 pm
Art Kit Pick-Ups: July 3-10
Join Anita via Zoom to learn how to make your own Neon Black Light Octopus Painting.
DIY Teens Take Home Kits & Virtual Meet-Ups
Each take home kit includes supplies and instructions for a DIY project to make at home. Registration for each kit is required. Registrants for each kit will also be invited to join an optional Zoom Meet-Up at 7pm on the corresponding Thursday of each pick-up week.
This new group for teens meets regularly to share resources, personal experiences, and books to educate and equip each of us to be a better ally, an active anti-racist, and an agent for social equity. New topics will be covered each month, guided by student needs and requests.
Our summer get together will be in-person and outside, weather permitting. Registration is required.
Teen Advisory Board
For students in grades 9-12.
The Teen Advisory Board is Huntingdon Valley Library's group of youth advisors in grades 9-12. T.A.B. meets with library staff once a month to brainstorm ideas, prepare for events, and work on creative projects that improve our library, all while earning service hours! To join T.A.B. for the 2021-2022 academic year, or for more information, please contact Beth at hvlysa@mclinc.org.
Resources for High School Research
Other News
Resources for Tough Topics
Please visit our resource page for information and support in educating yourself about difficult topics such as racism, sexual orientation, gender identity, mental health, and domestic violence. Resources for Tough Topics
Book Recommendations for Teens
YA Book Recommendations – March – Women writers and Female Protagonists
YA Book Recommendations – February – Amazing Fantasy fiction by Black authors.
YA Book Recommendations – January – Need an escape? Travel to new lands with these books featuring amazing maps.
YA Book Recommendations – November – YALSA Top Ten for Teens
YA Book Recommendations – October – Creepy Halloween Reads.
YA Book Recommendations – September – For Talk Like a Pirate Day, this video highlights several great sea-faring adventure books from our young adult collection.
 eReading for Teens

The easiest way to access eBooks from the Montgomery County Library District Digital Collection! Online help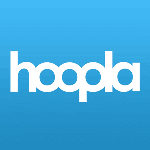 Hoopla is great for audiobooks, comics and graphic novels, Ebooks, music, movies, and shows. During this time borrows have been increased to 5 per month, so enjoy!
Still need a Huntingdon Valley library card so you can access our e-resources? You can apply online.
Social Media
Follow us on Instagram @HVLTeen and Twitter @HvlTeen for project ideas, book recommendations, programs, and updates.