Power Library eCard Update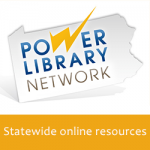 On October 1, 2023, all eCard users will be required to obtain a new eCard because the registration program has been upgraded to a new system. You may obtain a new eCard now by completing the appropriate form below.
Do you already have a library card number issued by your local library? Good news! There are no changes required. Please continue to use your local library-issued card number to access the e-resources in POWER Library.
PA residents 18 years or older: eCard – 18 or older – Power Library
PA residents 17 years or younger: eCard – Under 18 – Power Library
You may use your current eCard through September 30, but on October 1, POWER Library users with eCard numbers beginning with 24752 will no longer be able to access databases in POWER Library.