Book Worm Book Club, Wed., Feb. 15, 4:30 pm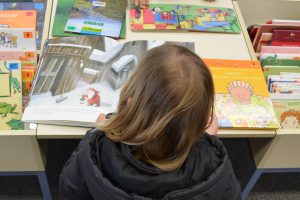 Join us for our book club for early chapter book readers! We will discuss J.D. and the Great Barber Battle by J. Dillard.
Wednesday, February 15
4:30-5:30 pm
J.D. has a big problem–it's the night before the start of third grade and his mom has just given him his first and worst home haircut. When teasing from other students becomes too much for J.D., he takes matters into his own hands and discovers that, unlike his mom, he's a genius with the clippers. His work makes him the talk of the town and brings him enough hair business to open a barbershop from his bedroom. But when the owner of the only official local barbershop realizes he's losing clients to J.D., he tries to shut him down for good. How do you find out who's the best barber in town? With a great barber battle!
Check out a copy of the book at our Circulation Desk any time before the event. The group will also enjoy a book-related craft or activity.
This book club recommended for students in grades 1-3.*
Registration is required. Click here to register.
*Readers in grade 3 should choose either this book club (early chapter books) or the League of Book Lovers (longer chapter books) based on current reading ability.
Sponsored by the Friends of Huntingdon Valley Library.