Movie Night Under the Stars, Sat., Sept. 23, 7 pm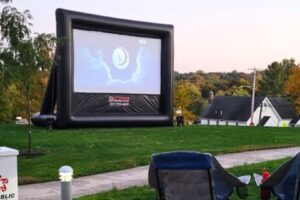 *Due to the weather, the movie showing will take place in the Red Lion Gym.
Bring your blankets and lawn chairs for a viewing of The Super Mario Bros. Movie on a giant 25-foot screen!
Saturday, September 23
7 pm
The movie tells a story of two Brooklyn plumbers who are brothers and best friends: Mario, the brave one with the "let's-go" attitude, and the perpetually anxious Luigi, who would prefer to go nowhere. Mario travels through the Mushroom Kingdom with a princess named Peach and an anthropomorphic mushroom named Toad to find Mario's brother, Luigi, and to save the world from a ruthless fire-breathing Koopa named Bowser. Rated PG. 92 minutes.
Light refreshments will be provided.
Location: Library lawn near the back/lower parking lot
Rain location: Red Lion Gym
Sponsored by Lower Moreland Township.