Virtual Family Trivia Night: Music, Wed., Feb. 1, 6:30 pm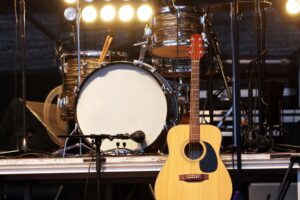 Test your knowledge of music against other patrons during our live virtual trivia contest! Compete as a family or play on your own. Trivia questions will cover general knowledge of music, musical instruments, and popular songs & artists from different eras. Tip: Having a multi-generational team can often be an advantage!
Wednesday, February 1
6:30 pm
Fun for patrons of all ages.
Registration is required. Sign up now!
Registration is required. You will need two different devices (or separate screens/browser windows) to participate. Questions will be streamed live via Zoom, and you will answer the questions via Kahoot (can be done on your smartphone or other device). No account is necessary for either Zoom or Kahoot.
Registration will close 1 hour before the start of this program. The Zoom link will be sent out at that time. The Kahoot pin will be shared at the beginning of the event. You must register for this event to receive the link and password. When registering, please use the email address for which you'd like the login information sent to on the day of the event.