Rhythm Babies – Nov. 7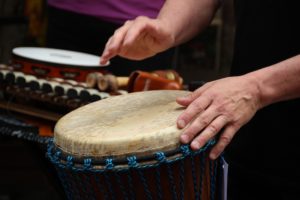 Join us via Zoom for this lively, interactive music & movement class!
Saturday, November 7
11-11:30 am
Rhythm Babies is designed to improve young children's auditory senses, cognitive, and musical skills through singing, rhythm, and creative movement activities. Most importantly, it's a lot of fun! 
Miss Julie learns every child's name at the beginning of the class and uses their names often to engage children. Her beautiful voice pulls in the class and she gives each child personal attention, even virtually! At the October class, we sang and danced to songs from multiple countries in a musical trip around the world.
List of "instruments" you will need:
Movement Scarves (substitutes: hair scarf, small blanket, dish towel)
Rhythm Sticks (substitutes: wooden spoons, drum sticks, pencils, chop sticks)
Maracas (substitutes: cups with beans, boxes of pasta, peanuts, spices that shake, etc.)
Tambourine/Drum (substitutes: boxes, tabletops, pots/pans/wooden spoons)
All ages are welcome. 
Registration is Required – Sign Up Today!
Please register using the email address to which you would like the Zoom link sent. Info will be sent out one hour prior to the class.
Rhythm Babies is sponsored by the Friends of Huntingdon Valley Library.