2017 Annual Appeal
2017 Annual Appeal
---
Our Vision: Huntingdon Valley Library is a forward-thinking
essential center of learning and community.
---
With Your Support…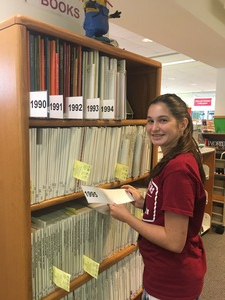 The Huntingdon Valley Library will continue to be a community hub and center of learning for all.
For some, we are your local library and for others, we are the library you choose to use. Either way, we welcome you and ask for your support during our 2017 Annual Appeal. Please consider giving generously today and know that we thrive with support from patrons and library members like you!
Kind words from a recent donor:
Thank you for the wonderful job all of you do.  The Huntingdon Valley Library is a real treasure.
Help the Library be the place where:
Children learn to code with robots
Seniors enjoy free movies, benefit from wellness classes, or take AARP's Driver Safety course
Adults engage in lively discussions at the Socrates Café
Teens and Adults volunteer
Local experts present lectures on art, history, local parks, and more
Children meet and play, developing social skills, at block parties, the train table, or the play kitchen
Teens tutor their peers
Local groups come to meet, including the Camera Club, Begonia Society, Hearing Loss Association, American Legion, Chess Club, CESOP, and AAII to name just a few
The Library is a 501(c)(3) organization, so your donation to our Annual Appeal is tax-deductible.  Have you asked your employer if they will match your contribution? You could double your gift! Consider joining the many who have made a commitment to the Library with a planned gift in their long-term estate planning.
Thank you so much for your patronage and support.
Sincerely,



Sharon Moreland-Sender
Director
For your convenience, checks may be made payable to:
Huntingdon Valley Library
The 2017 Annual Appeal (.pdf) includes a contribution form for your convenience.
You may also pay by credit card through our PayPal account.
Your gift can be dropped off at the Library on your next visit or sent to us by mail to:
Huntingdon Valley Library
Attn: Annual Appeal
625 Red Lion Road
Huntingdon Valley, PA 19006
The Huntingdon Valley Library is a 501(c)(3) nonprofit, tax-exempt organization. A copy of the registration and financial information may be obtained from the Pennsylvania Department of State by calling, toll-free, within Pennsylvania, 1-800-732-0999.  Registration does not imply endorsement.
Save
Save
Save
Save
Save